Here are suggestions on HOW TO GATHER SIGNATURES…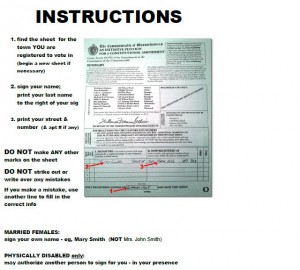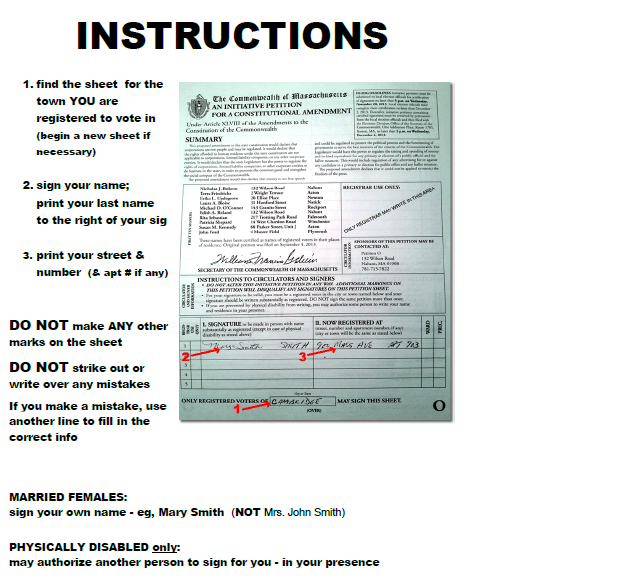 If you want to see how it's done "in the field", please contact us passmassamendment@gmail.com or 978 808 7173, and we will direct you to people who are petitioning near you. OR sign up for the "discussion list" or post on the Facebook page to find people near you.
Video on how to petition in Massachusetts (it's not for PassMassAmendment, but it's really quite good!)
RECENT LESSONS LEARNED
CLICK HERE FOR A LIST OF STUFF WE SUGGEST THAT YOU TAKE WITH YOU TO THE PETITIONING SPOT
1. PICK A SPOT near you where lots of people go. See here for suggested spots to petition. Community-specific events/meetings are good only if you are going to them anyway. People tend to want to "talk", and it's not worth traveling to these events, unless they are going to be HUGE, and you can focus on talking to new people every minute… Supermarkets are more "productive" than meetings, for example.
2. STAND OUTSIDE THE DOOR, close enough to be NEAR the foot traffic, but do not block the foot traffic.
3. ASK PASSERSBY "are you a REGISTERED VOTER in MASSACHUSETTS"?
4. If they say yes, say, "WILL YOU SIGN OUR PETITION?"
5. When/if they stop, they may just sign. But they will likely ask, "what's it for"?
6. "TO AMEND THE STATE CONSTITUTION BASED ON "CORPORATIONS ARE NOT PEOPLE, MONEY IS NOT SPEECH"
7. This may be enough. A lot of education has been done on this issue in Massachusetts, so a large number of people will sign readily.
8. And most other people will sign after you say things like:
– We're trying to get money out of politics
– We're asking voters to sign the petition so that we can put the question on the ballot in 2016.
– It's not to vote yes or no right now…it's just to put the question on the ballot.
For more detailed reasoning, please read and have handy the "why are we doing this" page, or the "legal discussion", before you go. We will be creating a one page FAQ, which will be posted here in the next couple days.
RULES FROM THE STATE:
If the signature is not readable, HAVE THEM PRINT NEXT TO THE SIGNATURE on the same line
Other than the TOWN in the blank space on the top, and the signature and street address, NO OTHER MARKS on the sheet, or the entire page could be "decertified" by the state
One exception is Boston. Ward and precinct do not have to be filled in but would actually be helpful in Boston.
IMPORTANT NOTES:
DO NOT TRY AND CONVERT PEOPLE if they are against this ballot measure. If they want an explanation, of course, take a couple minutes to talk to them, but if it's taking longer, it's best to give them a flyer (quarter page version) and let them look at it later. They can email us and call us for more info, too. 978 808 7173, PassMassAmendment@gmail.com
PLEASE bring everything in the PETITIONER'S CHECKLIST whenever you go out to petition
DO get EMAIL ADDRESSES! We are AT WAR to protect our demoracy, and this will take years. We will need people to be up to date on the progress. The more we can keep people up to date, the more pressure that will be on the legislature.
Please try and remember to ask people to ASK LEGISLATORS TO ENDORSE PassMassAmendment. We are printing up tens of thousands of cards with blanks on the back, so people can look at the list of Senators and Reps and write in the number. WE NEED 25% of them TO VOTE YES in 2 consecutive sessions of the legislature!
Petitioners have a CONSTITUTIONAL RIGHT TO PETITION in public spaces, even if the place is privately owned. This document is useful for showing store managers
If the store manager doesn't understand that it is OK for you to petition, ask them to call the police. The police can be very helpful. Towns do not want to get sued because the police did not protect your constitutional rights. Just by asking the store manager to call the police is usualy enough.
ORGANIZING THE FORMS
Organizing the forms in the field can be a challenge. Here are a few suggestions:
– have the town you are in on the top, with a few nearby towns underneath, alphabetized by town
– have other towns alphabetized on another clipboard
– have a piece of paper with a list of the towns that you already have forms for, so you can know if you need to make a new form for a town you don't have already.
At the end of the day, take a stickie paper and put an arrow on it, and place the stickie on the form so that the arrow is on the last signature you got that day. You can also write the date above the arrow, and the next date that you get sigs below the arrow. This will help you report to coordinators how many sigs you got that day/week.
HANDING IN THE FORMS
After you get a "whole bunch" of forms filled out in a town, the forms either go to the coordinator in that town, or directly to the Town Clerk. If you deliver to the Town Clerk, make sure to GET A RECEIPT. That receipt will be used to pick up the forms after the signatures have been "certified". The receipts will then be delivered to the Statehouse on December 4th. Please be there for the march across The Boston Commons, in celebration of this historic action.